LVCVA 16' (5m) Projection Dome Experiential Event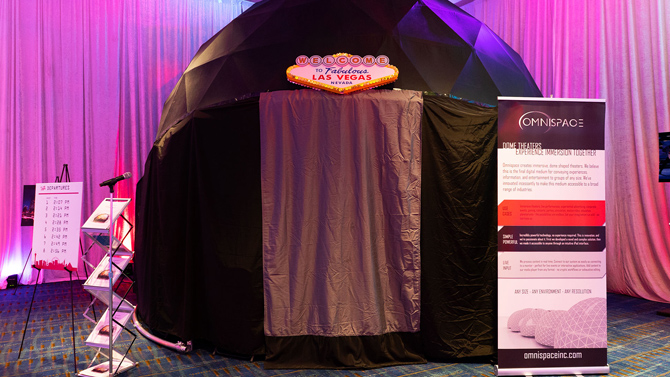 Las Vegas, Nevada, USA – 2016: The Las Vegas Convention and Visitors Authority hired Omnispace to showcase the bright lights of Las Vegas like never seen before! Our team helped deliver the most immersive experience possible using one of our Geodesic Projection Domes in the exhibit hall, alongside VR Headsets provided to the guests of the event. Our dome became the keystone of the event according to both hosts and guests alike. One attendee remarked on how much more enthralling the dome experience we provided was compared to the restrictive VR headsets.
"With the headset I felt like I was still staring at a small screen," said Scott Korver, "Whereas in the dome it was as if the whole room was a portal to another place!"
Immersive Domes
Using Dome Projection technology, our team produced a show to provide an educational experience to inform attendees about all that Las Vegas has to offer in a 5-meter (16 foot) diameter dome in a revolutionary 360-degree format. We at Omnispace are experts at bridging the gap between educational and experiential.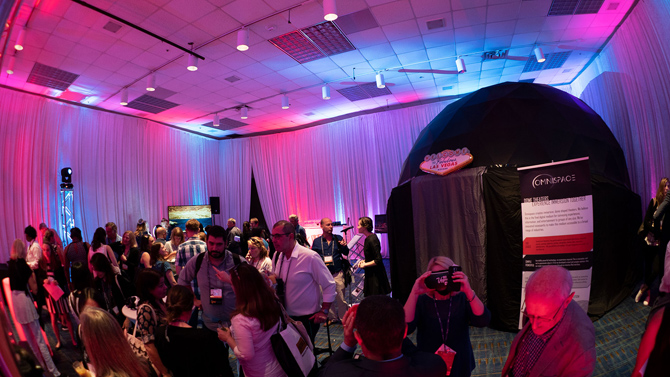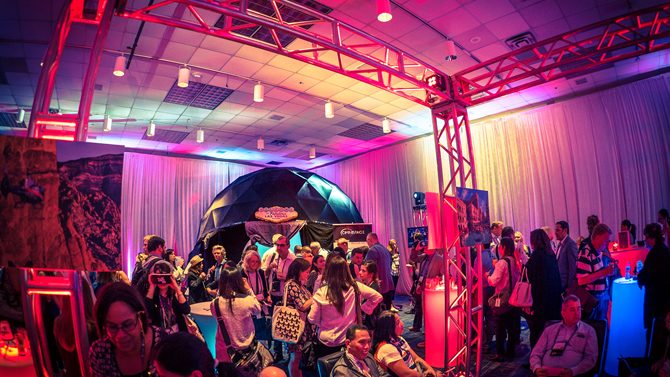 Geodesic Projection Domes
For the geodesic projection dome design, we opted for a tilted design in this instance to maximize immersion for the viewer and transport them from the exhibit hall to all the spectacular sights throughout the city! From Old Vegas to New, guests were mesmerized by the feeling that they were right there on the world-famous Las Vegas Strip themselves. To add to the transformative experience, the titled dome was on stilts which allowed the option of it to be visible to attendees outside the dome or concealed with drapes.
All of this was made possible by way of our trusted in-house manufacturing. With both local and international manufacturing centers, our engineers can create custom designs and serve any market in the country or across the globe. What once may have been considered cumbersome in years past has been streamlined by our honed methodology that designs our domes to be set up and taken down quickly and easily to take the logistical burden off our clients. Our proprietary Automatic Calibration System paired with the Omnispace360 Media Server created stunning, cinematic picture quality that normally takes hours or even days to align projection and was done in a simple matter of minutes.
If you are interested in learning more about our geodesic projection dome and the many OMNISPACE360 Technologies or if you would like to learn more about our production process and solutions used for the LVCVA and other domes feel free to contact us here, check out our current projects on Facebook and IG, Tweet at us, or find us on YouTube.