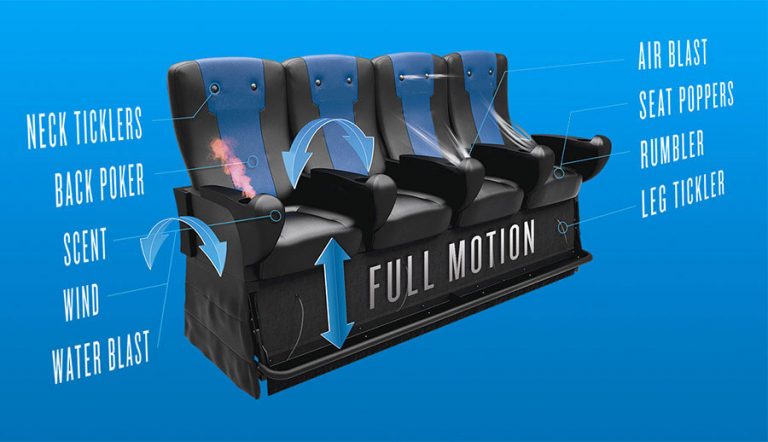 4D Effects & Motion Seating can be integrated into Omnispace Immersive Projection Domes and can feature a wide array of 4D Effects such as; motion, vibration, scent, wind, mist, temperature and other effects. This is typically a custom solution that is designed to match and be timed with the content being displayed on the dome. This is all controlled via the OMNISPACE360 Immersive Media Sever so that it integrates seamlessly.
For certain applications such as simulators, ride films and themed attractions, we utilize the latest in motion seat technology that offers a wide range of motion and other effects and can even mount domes to motion platforms so that they can move as with our immersive dome flight simulator solutions.
OMNISPACE360 Immersive Domes, with our state-of-the-art motion seats, reinvent entertainment by moving the body and invigorating the mind through an entire world of content. This unique experience has drawn the eyes of countless companies, including National Geographic, who have wanted to combine their entertainment and our technologies to create unforgettable experiences!
With technologies like 4D Effects & Motion Seating along with other Omnispace Technologies we plan to revolutionize and "immersify" media experiences! Be it: gaming, films, Virtual Reality, Professional simulation, or themed entertainment; Omnispace is changing the game!
Available for both permanent installation as well as temporary experiential events or trade shows, the 4D Effects & Motion Seating can be easily deployed and set up quickly to meet project timelines. Custom solutions are possible so please don't be afraid to challenge our team of technicians and programmers to create the perfect solution for your project.
Contact one of our project design specialists today and we can quote a 4D Effects & Motion Seating solution for your project or catch us on Social: Facebook, Instagram, Twitter or YouTube.