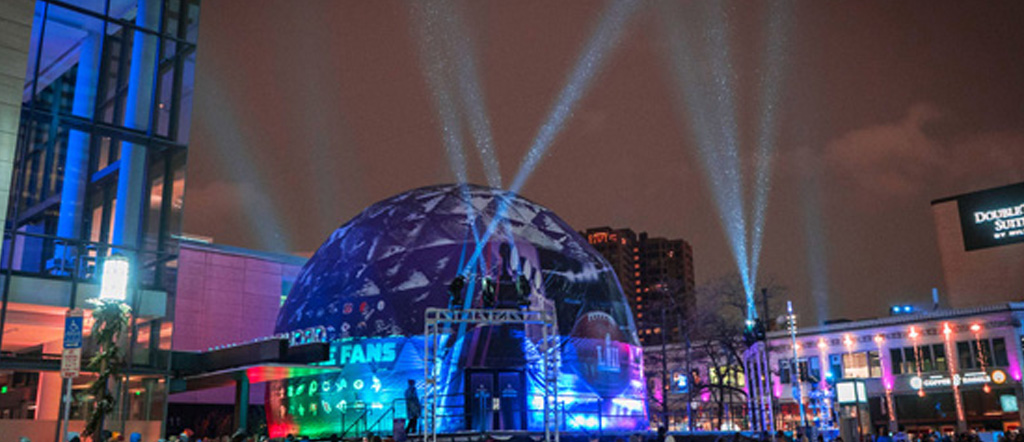 At the Super Bowl 360 Dome Experience at Super Bowl LII Omnispace worked with bluemedia to offer a new, innovative way for fans to engage with the NFL brand and Super Bowl LII using our 360 immersive dome for an unforgettable brand experience like no other!
The Dome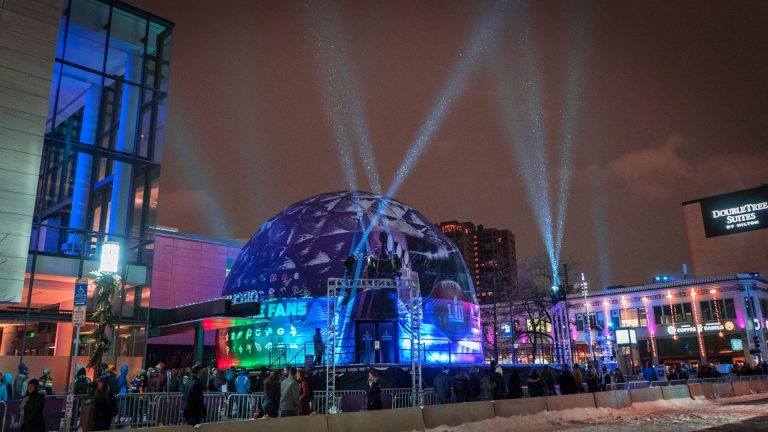 Thanks to Omnispace's state-of-the-art entertainment technology, our team was able to create a 50′ (15m)
geodesic projection dome
and help bluemedia offer any die-hard fan a VIP experience that they never expected! Our dedicated dome building team braved the extreme cold and what seemed like blizzard conditions to deliver this project for our client. Despite that, the dome and all the equipment took only a few days to build out prior to Super Bowl week kicking off!
"One of the coolest things I have done at a part of the NFL Experience at the Super Bowl!" said John Hampton of Duluth, Minnesota who traveled to Minneapolis for the events.
The Show
For the immersive dome show that our team produced for bluemedia, we started with the city of Minneapolis and zoomed up to the Hubble Space Telescope and back down into the U.S. Bank Stadium where Super Bowl LII was to be held. After a short demo of football plays on the field the scene changes to a beautiful winter forest that the audience is transported through on the dome very much like a ride film! The Omnispace portion of the experience was designed by Omnispace CEO, Chris Lawes, who took a special interest in the success of the project. "Having worked in domes for many years, it was a unique opportunity to really show off the types of experiences that make immersive domes special. For example, the micro to macro of the city zooming out to space and back ended up really special and just would not be the same on a flat screen" said Chris. In addition to the geodesic projection dome for bluemedia, Omnispace 360 also produced video projection mapping displays onto buildings and the stadium in Minneapolis featuring projected branding and effects leaving a lasting impression on the fans in attendance! Omnispace was the technology designer, integrator and programmer on this project which was executive produced by Paul Whitney with
bluemedia
.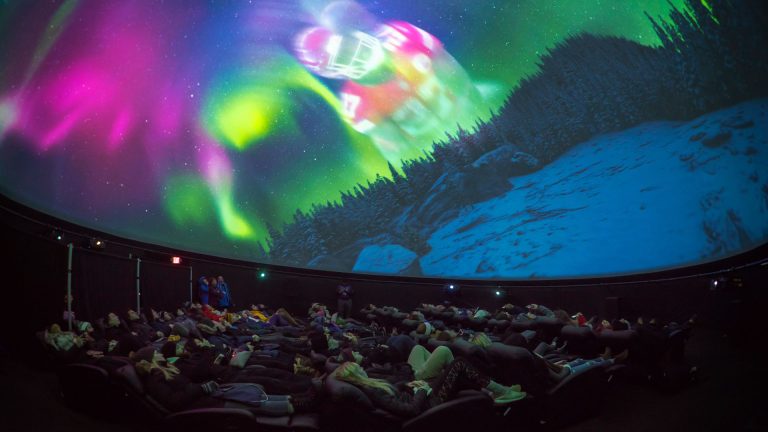 If you liked the Super Bowl 360 Dome Experience and are interested in learning more about the geodesic projection domes or immersive domes in general or if you have a project that you would like to discuss with a member of our team, please contact us or reach out on social here: Twitter, Facebook, Instagram or check out more of our projects on YouTube