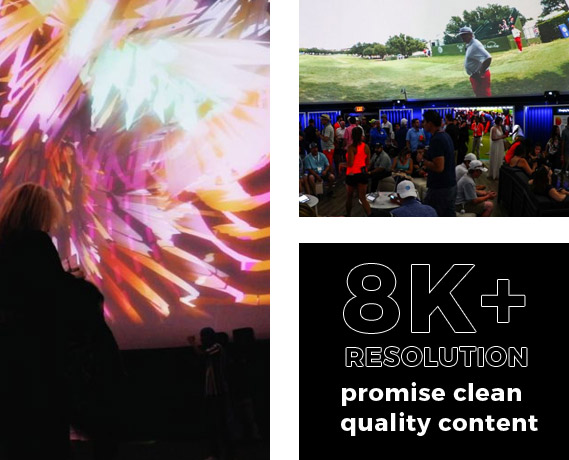 Multiple laser projectors up to 8K+ resolution promise clean quality content and never having to worry about replacing any wasteful bulbs! Once set up, our equipment all syncs to one server making for easy, automatic calibration and making sure every show looks its best! Each application is fully customizable with an extensive array of 4D effects such as; temperature, scent, motion, vibration, or even atmosphere!
First, we start with top of the line video projectors that we specify to meet the needs of our clients and partners to provide the ultimate immersive display solution for their projects. Our team of display technicians review each project and design the system to achieve the optimal level of optical performance.
Then comes our proprietary media server technology which features our automatic calibration system for immersive projection domes and other projection mapped displays. It allows you to easily projection blend and calibrate the typical dome in about 15 minutes! This process manually used to take hours or even days for larger domes with more projectors. Also, our dome server technology can accommodate a huge range of content options from 8K+ fulldome films to real-time interactive programming and even live 8K 360 dome streaming!
Finally, we focus on the user experience by adding a wide range of 4D, motion, lighting, vibration and other effects to the domes…all with a focus on creating the ultimate immersive media systems from OMNISPACE360.
Contact us today and have one of our solutions specialists schedule an appointment to evaluate your projects and provide initial analysis and ultimately a budgetary estimate and proposal. Our team is dedicated to providing our clients with amazing service that will result in the best possible solution for your projects. Also please visit us on Twitter, Instagram, Facebook or see more videos of our projects on YouTube.