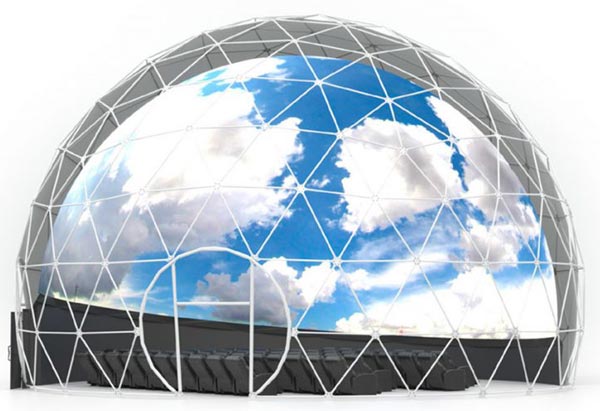 Our portable 360-degree multimedia domes make it possible to bring the cutting edge, visually rich experience of fulldome anywhere. They are comfortable and ventilated, offer beautiful visuals, and are quick and easy to set up. By mounting our projectors on the dome frame, Omnispace domes have completely clear floor spaces.
We typically recommend a geodesic dome for sizes from 10′ (3m) up to 90′ (27m) in diameter with sizes above that possible for permanent installations and special requirements. For sizes above 90′ (27m) we typically recommend using inflatable projection domes, for both temporary applications such as events, shows or touring exhibits as well as permanent venues that can hold thousands of people.
Click here for a catalog download of our available geodesic dome options, sizes and specs.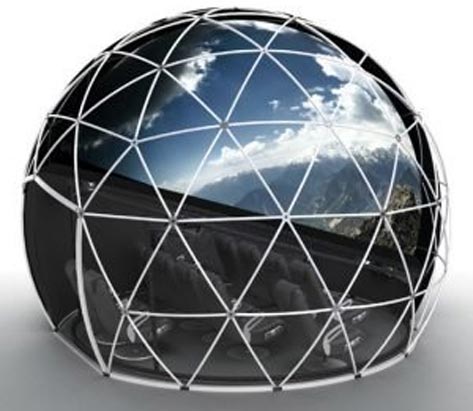 Geodesic projection domes from OMNISPACE360 are perfect for both temporary applications, such as; experiential marketing activations, corporate events, private events, weddings and more, as well as for permanent applications, such as; museums, planetariums, schools, churches and more. They can also be equipped with 4D and motion seating technology that allows for the geodesic dome to be used for ride films and other themed entertainment applications.
Our immersive domes can also feature custom printed exterior covers so that the exterior can come to life with any brand or artwork. Our team can also integrate a custom video projection mapped exterior via an array of video projectors positioned around the outside of the dome so that it can be fully animated at night. One of the features of the domes here at Omnispace is that they are more than a hemisphere which creates a larger exterior profile for branding or projection and also maximizes floor space in the interior.