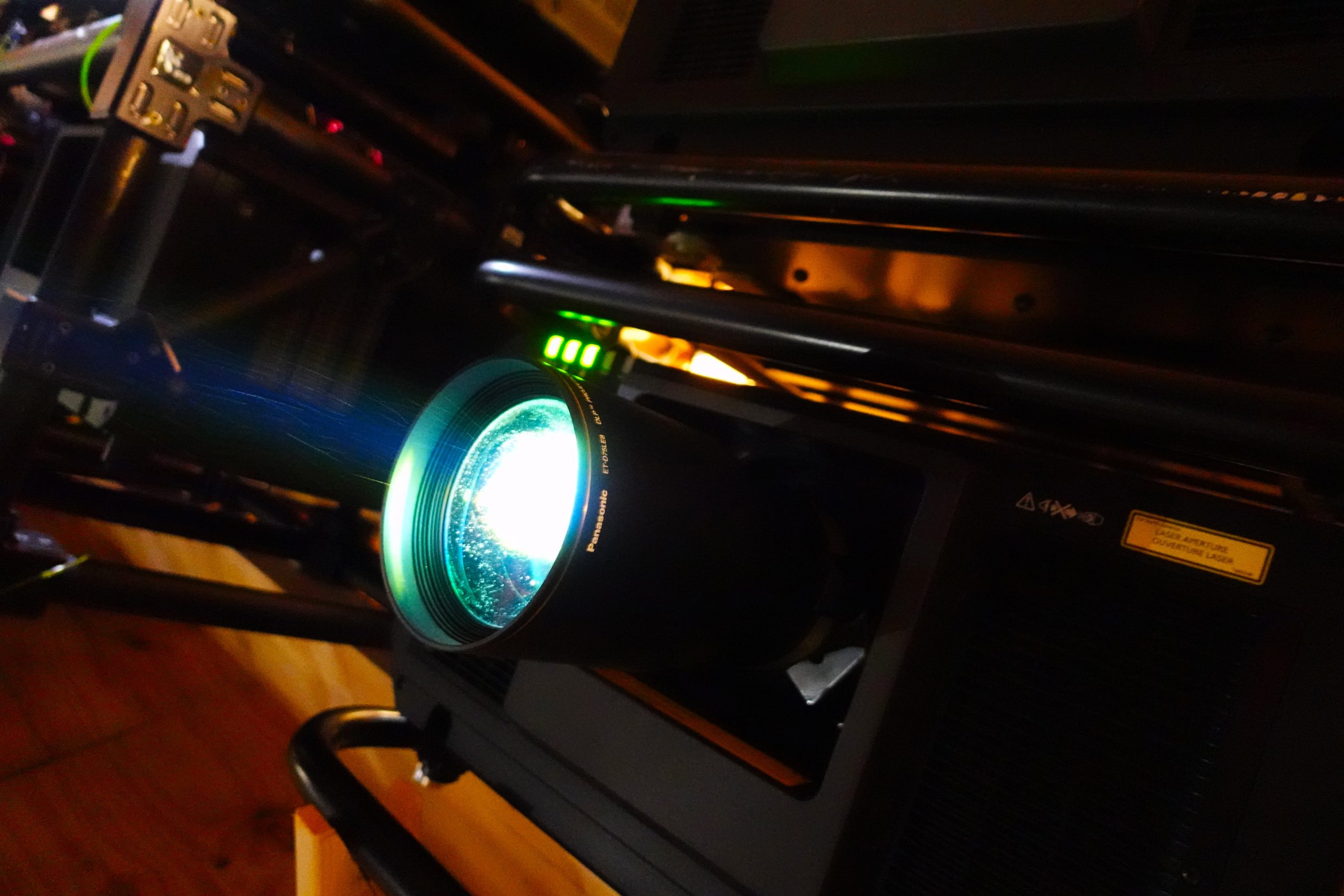 The timing of this year's Super Bowl made for some interesting logistics. Chief among them, how to deliver an immersive shared environment while still in the throes of a pandemic? Due to social distancing constraints and a peripheral location, projection mapping
the stadium
was not a viable option. Instead, we found a beautiful limestone canvas in the form of the
Rivergate Tower
for our main show.
We erected a "Treehouse" at the opposite end of the
Curtix Hixon Waterfront Park
to house all 20 of the Panasonic 31k projectors. This casted a stunning 600,000 lumen image that was over 160 feet wide and 200 feet tall! The vivid imagery covered thirty floors of the building and could be seen from
all across the city.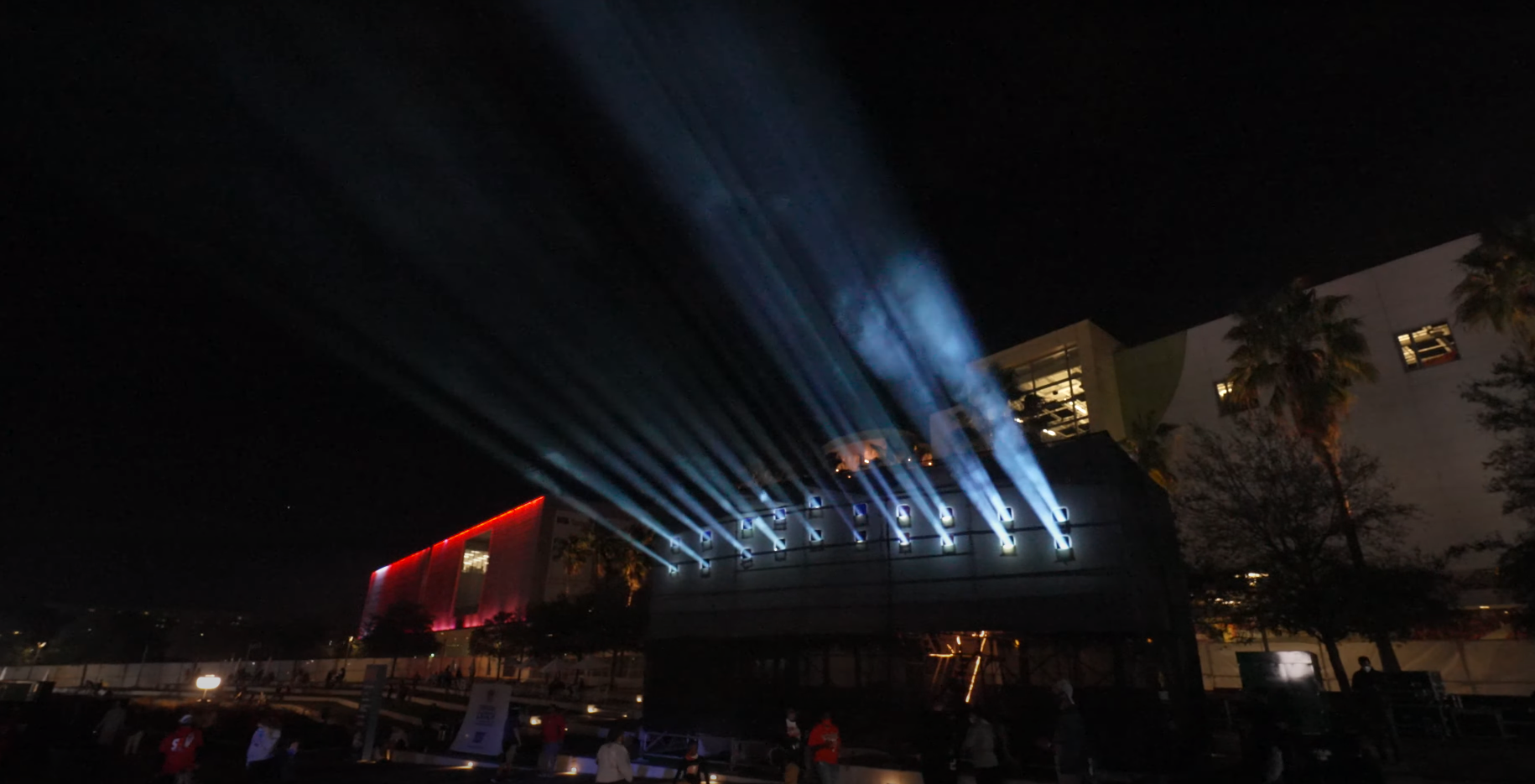 We also had to create content for multiple teams in advance, not knowing who was going to win, and then adjust the color scheme to fit the conference champions in the quick turnaround between the conference championships and the Super Bowl. Our partners were able to utilize our highly effective process for developing experiential content for our clients that begins with initial conceptual meetings and story boarding. Next we engaged in an energizing back n forth of concept development with different versions showing a star quarterback, one showcasing an entire team, and one centered around the coveted Lombardi trophy. We created a wide array of content for the NFL that we showcased to their whole executive marketing team, allowing them to handpick from and curate their ideal show. This was the culmination of a truly collaborative effort between our content and engineering teams at Omnispace360, our partners at bluemedia, and the NFL.
Our second show took place at the Embassy Suites hotel in the heart of the channel district downtown. The architecture of this location allowed for a mesmerizing mirror effect across the twin columns that the building divides into thanks to an entirely windowless side of the building facing inland. Building up to the big game they displayed a set of shimmering banners promoting Super Bowl LV. As soon as we displayed the dynamic Super Bowl Champion banners at the conclusion of Tampa Bay's historic victory the whole district
erupted into a giant outdoor party!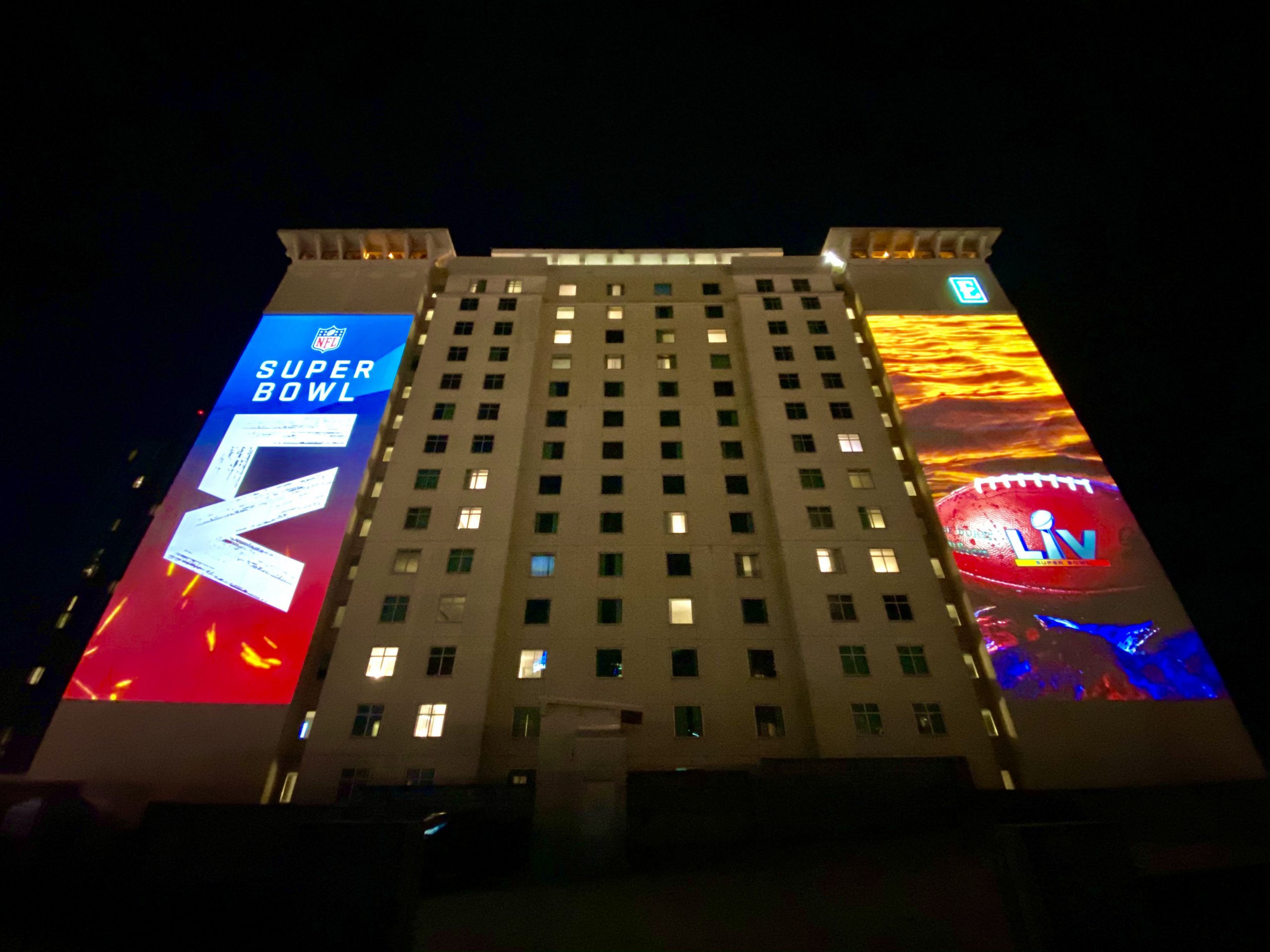 If you are interested in creating a dynamic experience in your own space or at your next event don't hesitate to contact us here and we will be happy to arrange a meeting. You can also connect with our marketing team on Instagram, Facebook, Twitter and be sure to check out some of our other projects and the wide array of OMNISPACE360 Technologies in action on YouTube.