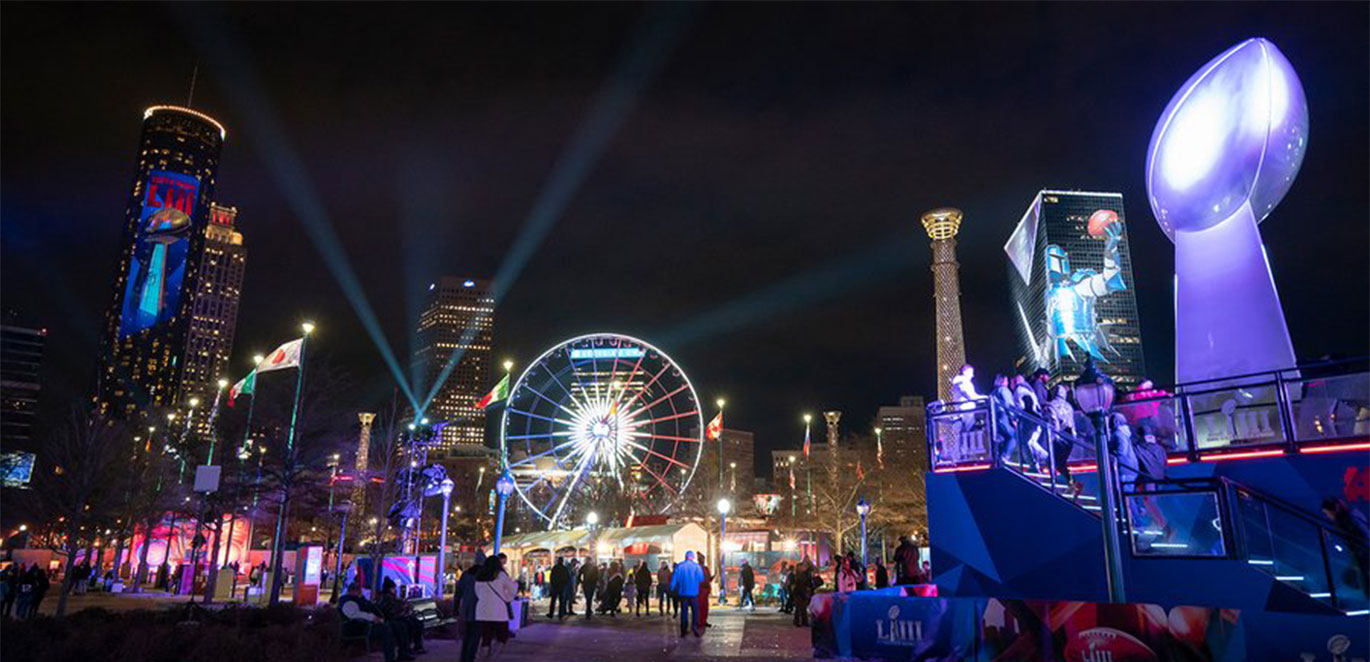 Once again bluemedia chose OMNISPACE360 and our suite of technologies for projection mapping iconic elements of their Super Bowl LIII activation in Atlanta.
Projection Mapping the Westin Peachtree Plaza Hotel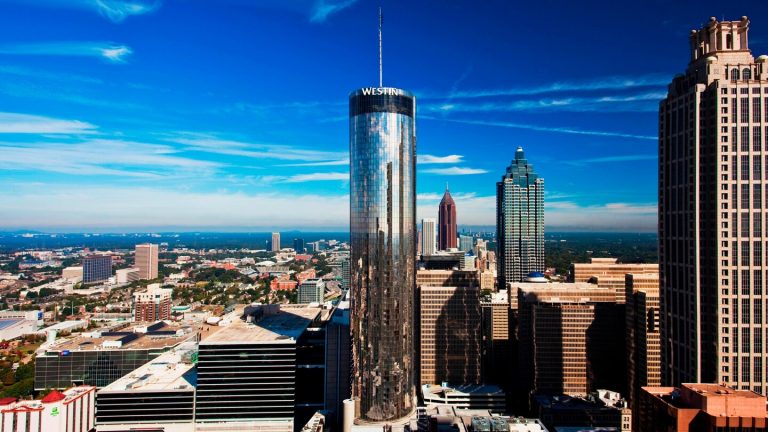 We were tasked primarily with two targets for projection mapping: 1) the iconic Westin Peachtree Plaza Hotel and 2) the main entrance to the new Mercedes Benz Stadium. In both cases, we were focused on augmenting the existing imagery that was on the structures in the form of vinyl decals.
"In the case of the Westin Peachtree, we were working with some long throw distances and so we had to use very specific lensing and geometric warping to achieve the desired image quality" said Nitai Flick, Omnispace CTO.
For the Westin Peachtree, we used a massive array of the ultra-bright and powerful projectors with custom long-distance lensing. This was paired with the OMNISPACE360 Media Server Technology to both align and calibrate the projection mapping but also to deliver the content.
Our team worked directly with renowned EP Paul Whitney and bluemedia to produce the artwork for the Westin building which included projecting effects onto the graphic of the Super Bowl LII logo and the famous Lombardi Trophy!
Projection Mapping the Mercedes Benz Stadium Entrance
On the side of the new Mercedes Benz Stadium that faces the rest of downtown Atlanta the NFL had our team projection map a giant Lombardi Trophy that we then animated to make it come alive with color and patterns.
While a bit more straight forward than projecting from the ground to a skyscraper, this project had a few new challenges. One was the ambient light that is always bathing the outside of the stadium in bright white lights. This required us to "stack" the projectors such that we effectively doubled the brightness to cut through that light. Another factor in this project was the need to adjust for the angle and geometry of the unique side of the stadium.
Omnispace was the technology designer, integrator and programmer on this project which was executive produced by Paul Whitney with bluemedia.