Byron Nelson Classic & Pebble Beach Pro Am PGA Tour Events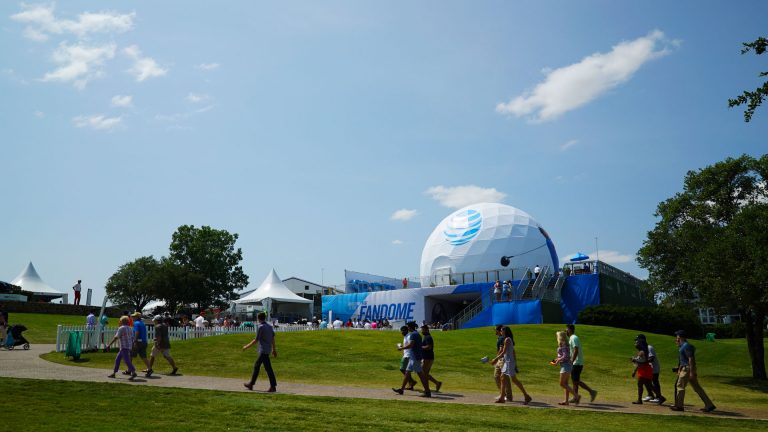 Irving, Texas & Pebble Beach, California, USA – 2018: Working with bluemedia out of Tempe, Arizona, Omnispace produced a 50′(15m)
geodesic projection dome
in the heart of Irving, Texas for AT&T at their AT&T Byron Nelson Classic PGA Tour event. The experience housed a wide assortment of different mediums of
live dome streaming
, interactive art and immersive displays for the PGA! This is not your standard PGA sponsor tent with refreshments as you stroll around the course; this
Immersive Dome
has the power to take the golfing fan experience to the next level! A tech show, museum, arcade, and more wrapped up in an experience that anyone of any age will enjoy! 18 holes and 50 feet was the perfect formula to create one unbelievable tour stop down in Texas!
The Experience
First, the Omnispace team was tasked with pioneering a new technology and media solution to live dome stream from remote 360 cameras into a central dome location on the course. Our team was the first to ever deliver such an experience for a major sporting event. Then, using our
OMNISPACE360 Media Server Technology
, we were able to live switch between the dome streaming sources that were coming into the dome. We also integrated custom
fulldome film programming
that included a timeline for the career of golfing great Jordan Spieth. We also were asked to bring the AT&T Fan Dome to the beautiful and iconic Pebble Beach Pro Am with its amazing location on cliffs along the shoreline in Carmel, California. The experience inside the dome was the same as in Texas but the production had a major difference in that we had to brave torrential rain and wind during the entire setup! However, we prevailed, and the public event went according to plan and the guests were amazed. It was a credit to our partners at bluemedia and our team at OMNISPACE360 for their keen professionalism that ensured a successful activation for our clients. Omnispace was the technology designer, integrator and programmer on this project which was executive produced by Paul Whitney with
bluemedia
.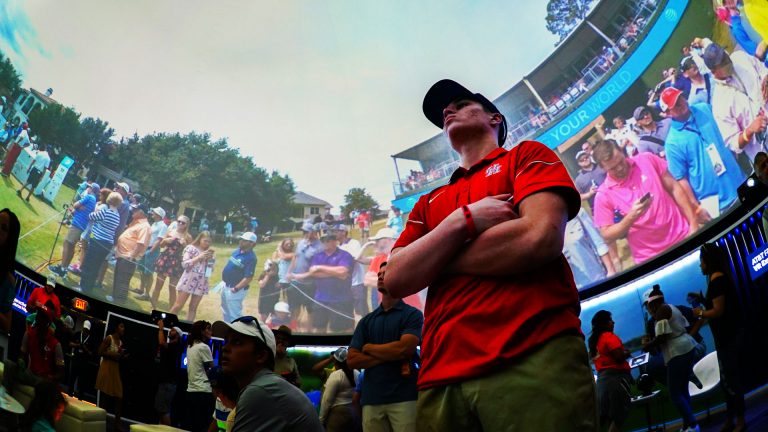 Want To Learn More About It?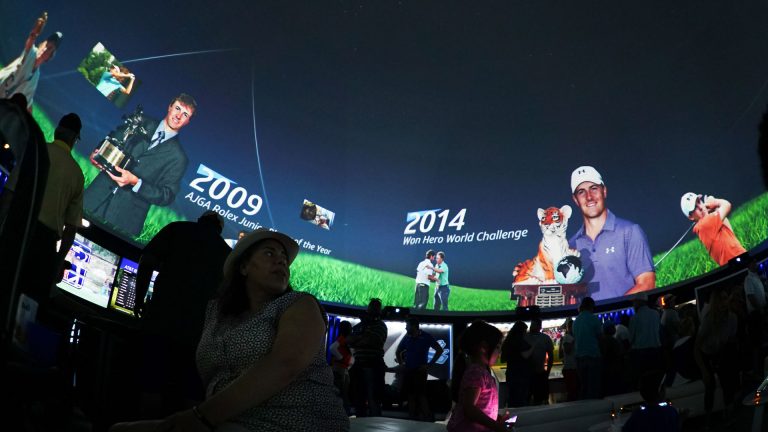 If you would like to know more about the AT&T Fan Dome or our Geodesic Projection Domes or Live Dome Streaming technologies, please contact us. You can also connect with us on social media at Facebook, Instagram, Twitter or see other projects and OMNISPACE360 Technologies in action on our YouTube Channel.